At 87 million images and counting, interior design pictures are a popular trend on Instagram. Angie's List recently studied which interior styles are featured most often across different regions.
Overall, the most popular design style in the U.S. is "coastal living." Eighteen states use the #coastalliving hashtag more than any other to describe an interior of a home. Not surprisingly, the states that tend to share this style the most tend to be waterfront states.
But other places can also incorporate the style through colors and textures inspired by coastal areas, such as whites and steely grays mixed with blues and greens. Unpainted or weathered wood also embodies this look.
Meanwhile, West Coast regions like Washington and California tend to prefer #midcenturymodern, the second most shared style on Instagram. The mid-century design focuses on streamlined classics that incorporate matte finishes as well as materials like plastic, acrylic, and Formica.
"The 'new retro' look of mid-century modern feels both classic and contemporary, allowing amateur interior designers to cherry-pick their favorite details from a century of interior design," the study notes.
Some states like to share more home styles on Instagram than others, the study found. Instagram users in California shared 10,082 house-related hashtagged pictures—the most in the country—followed by Florida at 4,606. On the other hand, North Dakota and South Dakota shared the fewest design hashtags (just 38 and 42, respectively), according to the study.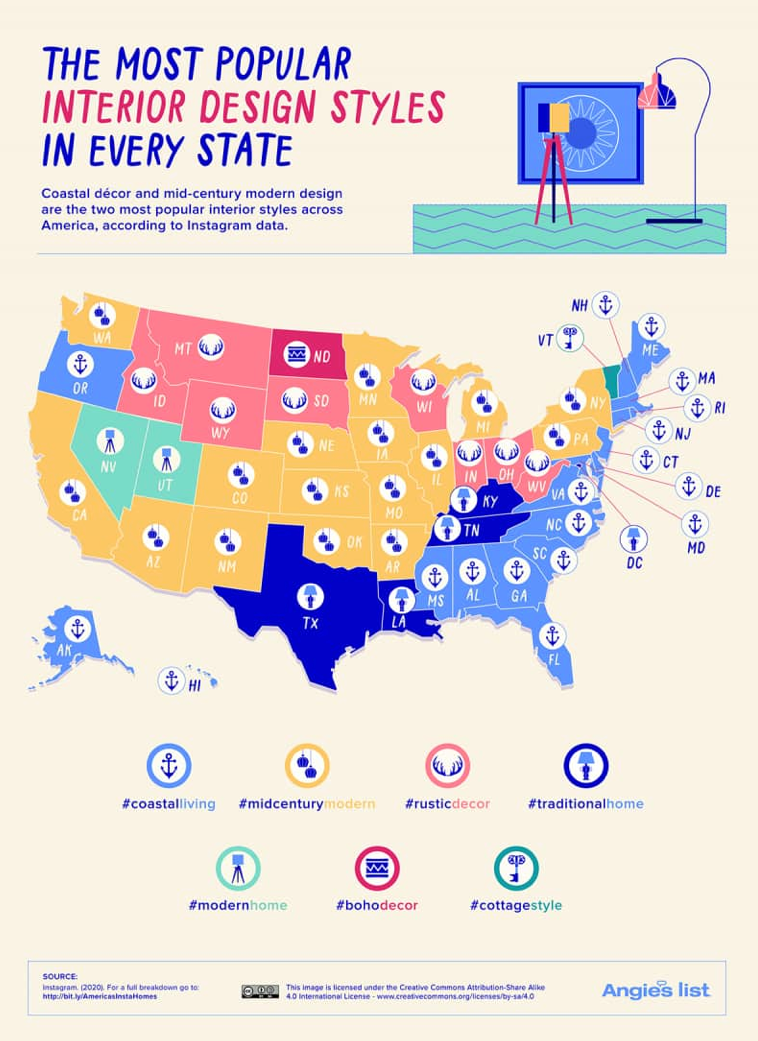 Source:
"The Most Instagrammed Interior Design Styles by State," Angie's List (2020)