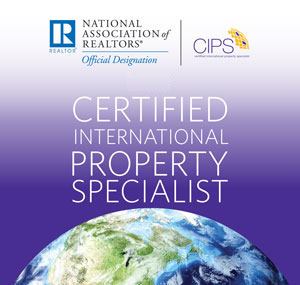 Katherine Figueroa REALTOR is a Certified International Property Specialist (CIPS), Resort and Second Home Property Specialist (RSPS) and a Luxury Property Specialist specialize in waterfront homes, golf course homes, resort and vacation homes, new homes and luxury homes. Marketing and selling real estate properties in Orange, Osceola, Polk and Lake Counties including the areas of Greater Orlando, Lake Nona, Doctor Phillips, Windermere, Winter Garden, Clermont, Horizon West, Champions Gate, Davenport, Reunion, Kissimmee, Celebration, other communities near Walt Disney World and other Theme Parks. She's a full time REALTOR® and licensed Real Estate Broker in Florida and Puerto Rico. Katherine's speak English, Spanish and Portuguese.

Katherine started her professional career since very young. She has been in the real estate and banking industry since 1988 working with buyers, sellers, investors and developers. She was born and raised in Puerto Rico. While attending high school she enrolled in the young business professionals program and was assigned to work with the islands largest mortgage banking institution.

Studied Business Administration at the University of Puerto Rico and worked as a Mortgage Loan Analyst helping and guiding many buyers, sellers, investors and real estate professionals during the loan processing, approval and closings process.

Katherine purchased her first home at the age of 21 years old. Since then her passion to help people in buying or selling their homes lead her and decided to have a goal to excel in all aspects from Marketing and Sales to Leadership inside the real estate industry when obtained her real estate broker license in 1994.

She was one of the youngest individual in Puerto Rico to obtain her real estate broker license and founding her own real estate brokerage firm where she has applied her many years of proven and successful sales in real estate.
Katherine is the former Broker Owner of a Global Luxury international master real estate franchise for the island of Puerto Rico. She has been featured in many luxury publications including Cable TV syndicates like NYC Luxury Open House. Katherine has great luxury marketing resources, education, tools and the exclusive luxury network to build an international marketing strategy for your property to help attract affluent buyers from around the globe. Katherine take the sale of your home seriously with confidentiality and a strong work ethics.
She obtained 10 professional real estate designations and certifications to bring a specialized service and high-quality service to her customers.
Katherine actually serves on the Board of Director of the Orlando Regional REALTORS Association (one of the largest local trade associations in the state of Florida, with more than 15,000 members) and also serve on the Board of Directors of Florida Association of REALTORS (the largest trade association in the state with more than 187,000 members and the third-largest Realtor organization in the country).
Katherine served as 2006 State President of the Puerto Rico Association of Realtors (PRAR), Chair of the Small State Forum of the National Association of Realtors (NAR) and was appointed by the Governor of Puerto Rico to Serve as a regulator on the Puerto Rico Real Estate Commission in protection of the consumers among other leadership positions at local, state and national level.

Actively involves and contribute on the protection of homeownership on behalf of consumers and communities while service as active member of the National Association of Realtors (NAR), Florida Association of Realtors (FAR), Orlando Regional Association (ORRA). Appointed as member of Global Business Committee, Legislative Think Tank and Resort and Second Home Specialist of (FAR) and Global Council Member of Orlando (ORRA).

Relocated with her husband a Marine Corps War Veteran, native Floridian and a longtime Florida Real Estate Broker to Central Florida. On 2016 Katherine was awarded with the Top Outgoing Referral Recognition for the Central Florida Region. Katherine is mother of a 22 years old son in his third year of University majoring in Business Administration.

Day to day Katherine applies her many years of experience, her passion on helping people with their real estate needs and dedication within the Real Estate industry working out of the Watson Realty Corp REALTORS® Champions Gate Office an affiliate of Leading Real Estate Companies of the World and Luxury Portfolio.

Feel free to call or text her at 407.417.4227 to help you in all your real estate needs.